Dish Receiver Installation & Fixing In Dubai
Dish receiver installation servicing , fixing of building system internal & external wiring of villa in Dubai our Excellent Dish Star company is the best company for it's.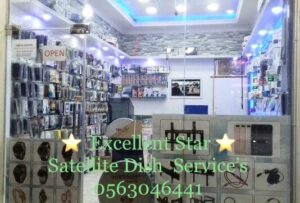 Our company do all types of Satellite Dish Antenna Installation , Programming , Renewal , Recharge and fixing Dubai.
There are many companies in Dubai of Dish Receiver Installation Dubai but our company is a different. Our company provides multi types of facilities in Dubai for all our customers.
Excellent Dish Service provide Dish Installation In Buildings, Offices, Shops, etc and other Channel Renewal or Recharge and fixing.
SYSTEMS ARE USEFUL IN AND NEEDED IN:
*Residential buildings blocks
*Local authority buildings
*Dormitories & Camps
*Home distribution in Villas
*Schools
*Health clubs
*Oil Platforms and Rigs.